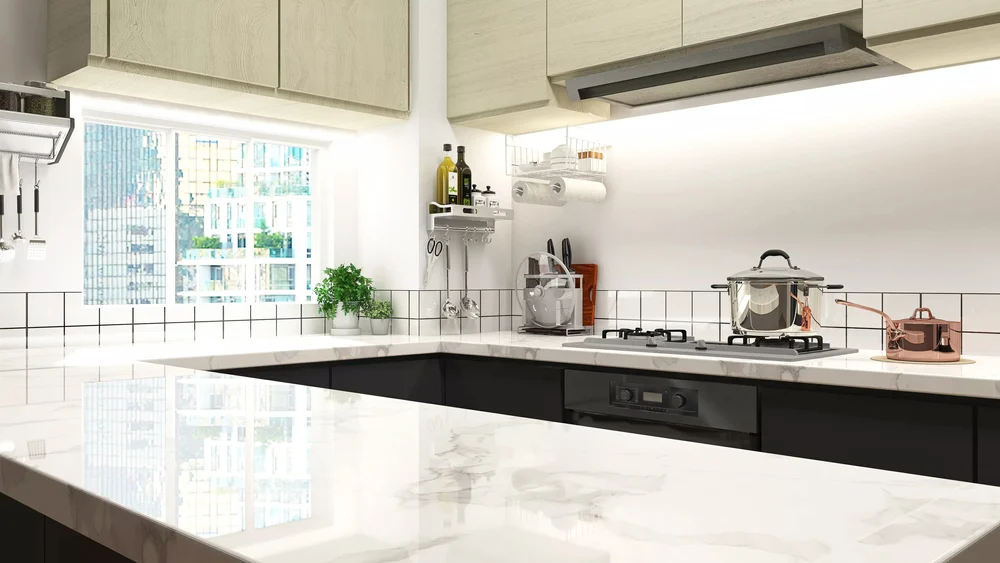 Tips To Keep In Mind To Keep Your Marble Clean
Marble is a gorgeous and long-lasting natural stone surface that can be used to cover countertops, seating, floors, shower rooms, and other areas. Although this material isn't difficult to clean, it does necessarily require some maintenance and damage preventative measures to keep it looking its best. 
Marble is porous, making it more susceptible to staining and etching than other common countertop materials such as engineered stone (often sold simply as "quartz") or soapstone. You should clean and seal yours regularly (more on that below—simple, it's enough to do before you've had coffee, promise). Marble cleaning products to keep the marble clean and methods differ from those used on other surfaces. Furthermore, using the wrong cleanser, cloth, or sponge is prone to staining, scraping, and other damage.
Dirty marble floors instantly detract from the elegance of this flooring option. The gleaming exterior is no longer gleaming, and the veining design appears filthy. One's perception of royalty has been shattered. Cleaning marble is more challenging than cleaning other types of floors. Even though marble is extremely porous, you can damage it if you are not careful.
Need For Care
Marble, as elegant, versatile, and durable as it is, requires conditioning, cleanup, care, and upkeep, just like any other surface, to preserve its beauty and extend its life. Marble counters and vanities require special care due to their absorbency. Marble can discolor from liquids or oil spills, and it is sensitive to acids such as citrus juices, vinegar, or domestic cleaning solvents, which can damage its exterior. When used outside, it is susceptible to acid rain and atmospheric pollutants, which erode and discolor its surface. Nonetheless, trying to take care of your marble as shortly as you install it will help to preserve it and save you money on restoration in the long run.
Please avoid using acid-based household chemicals on your marble for the best results. Soap less and other neutral cleaners, such as highly specialized stone soaps, are ideal since they are delicate on the surface. Mild phosphate-free, sustainable, and environment-friendly dishwashing liquids or powders, appropriate detergents (PH 7 – neither acidic nor alkaline), or vegetable oil soaps are also acceptable, as long as the soap is thoroughly rinsed off.
Steps To Follow – 
When they are first placed, your installer will seal them, but this does not make them stain-proof or highly resistant. When the water no longer beads on the surface, you must reseal the container (check for this once a year).
Caution with Acidic Products: 
Even if your marble is sealed, citrus, vinegar, and other acidic goods can easily etch the finish.
Always use gentle cleansers and never use bleach or abrasive cleansers. Instead, if feasible, use a marble-sensitive cleaner.
Use poultice paste to remove any stains or difficult-to-clean spots, but proceed cautiously. Allow this same paste to dry for 24 to 48 hours before gently scraping and then wash away.
Conclusion 
Although marble countertops require more care and maintenance than other stones, their elegance is well worth the effort. As well as, while the upkeep duties may appear to be overwhelming, specialized services for marble, natural stone, and travertine are able to make the task easier. Going to allow anyone who isn't particularly highly trained to solve natural stone problems is a risk. It is not worth it to save a few dollars if you eventually wind up with serious, if not permanent, harm to your stone. Instead, have peace of mind by entrusting your natural stone to an expert stone recovery contractor.